REMOVABLE COCKPIT TABLE:
Illustration adapted from "Best of Sail Magazine's Things That Work", International Marine, Camden Maine, 1998.
My wife wanted a cockpit table to use while we rafted up with our friends. I designed one and built it from hardware we carry. Later I bought "Best of Sail Magazine's Things That Work" and saw they had a similar table. The sketch is modified from the one in the book.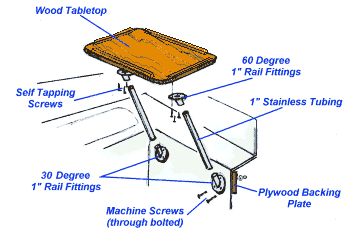 I used a piece of mahogany for the table top with narrow strips attached to the top of each side (to keep things from sliding off), and finished it bright. 60 degree rail fittings are mounted on the bottom of the table top (round or rectangular base rail fittings can be used), using self-tapping, flat head screws.
On the cockpit bulkhead, mount 30 degree base rail fittings. Through bolt these using flat head machine screws, fender washers, and lock nuts. Use a wood backing board as wide as possible to distribute the load of the table, use the broadest piece you can fit against the inside of the bulkhead. If you'll see it in the cabin use a nice peice of wood finished accordingly with cap (acorn) nuts and lock washers.
For the legs use 1" stainless tubing to connect the 30 and 60 degree rail fittings. As for height (i.e. length of tubing), figure that you want to fit your knees under the table. The best way is to sit on your cockpit seat and measure the most comfortable height for your knees come to. Divide this measurement by 0.862. This will give you the approximate length of the legs.
I also added clips under the table top to store the legs when not in use (call or drop us a note, they are not on the site but we have them). In addition, you may find other locations on board for your table – mount other 30 degree fittings where needed.
Or, you can buy a sleek teak cockpit table HERE

Categories

Authentication