Anchor Systems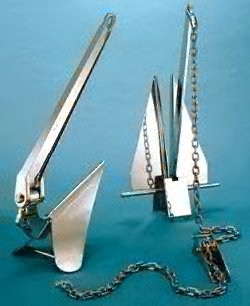 We have developed several anchor systems depending on the size of your boat and your preference on an anchor type.

Simply go to table below and find your boat length. Then choose the style anchor you want, our PlowMaster® or SeaMaster®. Next select the style of swivel you would like our Standard, Heavy Duty, or the top of the line, Universal. Each system shows the Stainless Steel Anchor Shackle and Chain (size & length) you will need. Place your order for the items you need through the on-line shopping cart (click the link at the top of the column) or give us a call!

For more details on each item in the systems see the write-ups and specifications in each of our product sections (click on the link at the top of each column).
Anchor Systems Table
1. Choose Anchor Type

2. Shackle

3. Choose One Swivel

4. Chain

Boat Length

PlowMaster®
(Holding Power)

SeaMaster®
(Holding Power)

Anchor Shackle

Swivel

HD Swivel

Universal

Chain
(size provided)

Up to 26 Feet

NA

S7515-0000
(950 lbs)

S0116-FS08

S0156-0008

S0190-0008

S0190-X008

S0602-0007 (1/4"x 5')

Up to 32 Feet

S7025-0000
(2,000-3,000 lbs)

S7520-0000
(1,300 lbs)

S0116-FS10

S0156-0010

S0190-0008

S0190-X008

S0601-0008 (5/16"x 5')

Up to 35 Feet

NA

S7525-0000
(1,500 lbs)

S0116-FS10

S0156-0010

S0190-0008

S0190-X008

S0601-0008 (5/16"x 6')

Up to 40 Feet

S7035-0000
(3,000-4,000 lbs)

S7535-0000
(2,000 lbs)

S0116-FS13

S0156-0012

S0190-0012

S0190-X013

S0601-0010 (3/8"x 7')

Up to 55 Feet

S7045-0000
(4,500-6,500 lbs)

S7545-0000
(2,500 lbs)

S0116-FS16

S0156-0016

S0190-0012

S0190-X013

S0601-0013 (1/2"x 8')

Up to 70 Feet

S7060-0000
(6,500-9,500 lbs)

S7570-0000
(4,000 lbs)

S0116-FS16

S0156-0016

S0190-0012

S0190-X013

S0601-0013 (1/2"x9')

Up to 85 Feet

S7080-0000
over 8,000 lbs

NA

S0116-FS20

S0156-0020

NA

NA

S0601-0016 (5/8"x10')